Gucci is one of the most recognizable luxury fashion brands in the world. The Italian fashion house is renowned for its high-quality leather goods, opulent designs and premium branding. Gucci has built an iconic reputation over the last century through brilliant product design as well as innovative marketing strategies.
In this extensive blog post, we'll explore Gucci's stellar marketing tactics and campaigns over the years. We'll see how Gucci maintains its elite yet contemporary image. The brand deftly combines its heritage with cutting-edge marketing to resonate with changing consumer tastes. Let's analyze key pillars of Gucci's promotional success.
Introduction
Gucci began as a leather goods shop in Florence in 1921 founded by Guccio Gucci. He crafted luxury luggage, handbags and accessories inspired by noble horseback riding. The company grew rapidly and expanded internationally. Gucci cultivated its upscale image early on by associating its products with high society and celebrities.
Under the leadership of Tom Ford in the 1990s, Gucci amplified its sexy, provocative aesthetic. It became one of the world's preeminent luxury houses, synonymous with Italian glamor and innovation. Even through turbulent periods, Gucci preserved its brand identity.
Today, Gucci is valued at over $15 billion under the creative vision of Alessandro Michele. The brand continues setting trends globally across apparel, leather goods, beauty and more. Much of Gucci's staying power stems from marketing excellence combining its heritage with contemporary, cutting-edge campaigns.
In this post, we'll explore Gucci's marketing approach through areas like visual branding, collaborations, experiential retail, influencers and social media content. Analyzing Gucci's promotional strategies provides lessons for marketing any top-tier luxury fashion label. The company's imaginative, multi-pronged marketing perpetually reinvigorates the brand.
Visual Branding
Gucci has crafted an instantly recognizable visual branding that permeates its marketing. The Gucci logo itself – two interlocking G's – is a globally iconic design. Gucci also has trademark motifs like its repeating diamanté pattern that adorn products and marketing materials.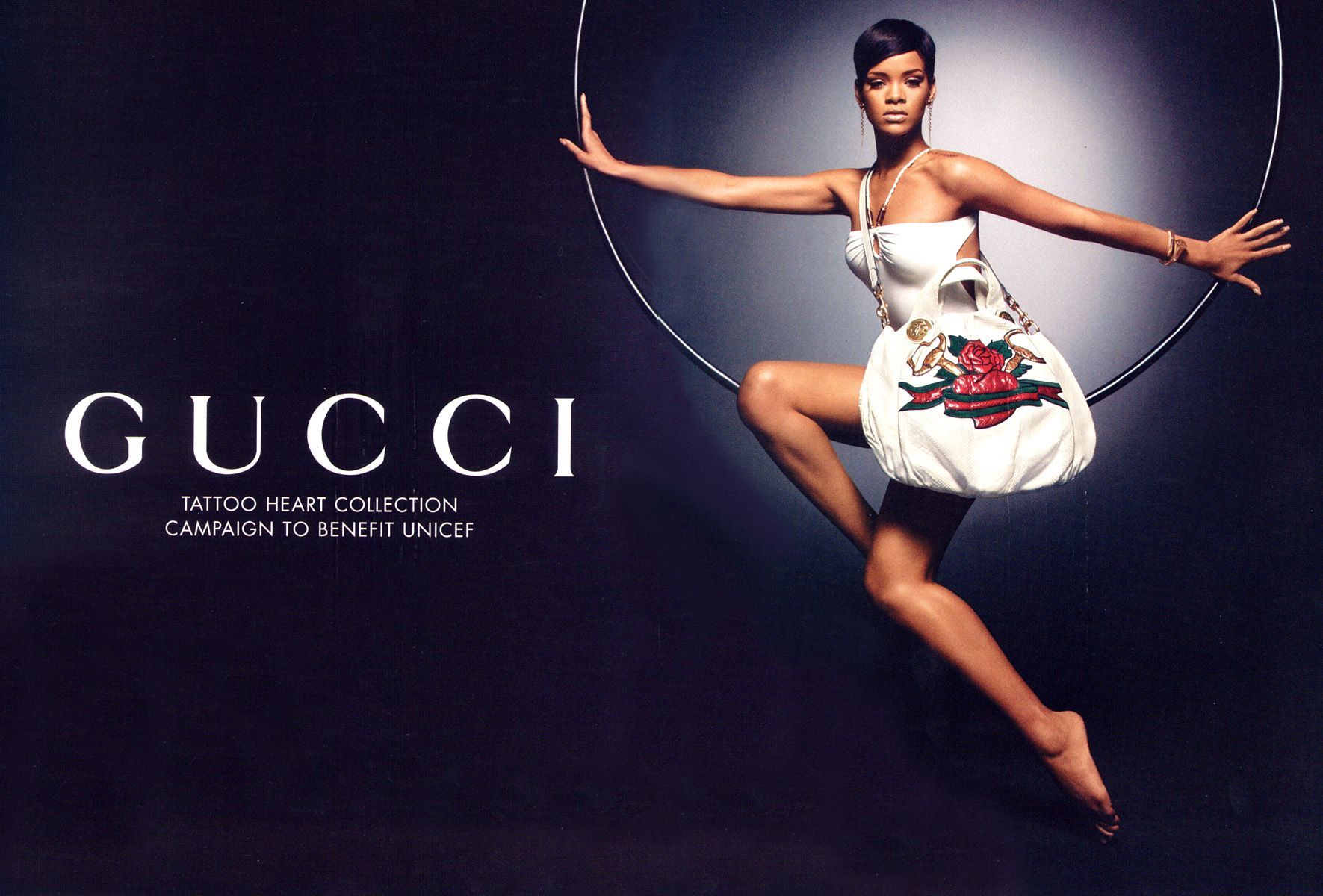 Gucci print ads and promotional visuals almost always incorporate these signature symbols. As branding elements, they elegantly convey Gucci's luxury cachet on instinct. Even small Gucci details like packaging and shopping bags reinforce brand identity.
Gucci also employs a bold, rich visual language in campaigns spanning decades. Models, clothing and locations reflect the sensual daring and opulence of the brand. Vivid colors and striking aesthetics make Gucci marketing highly distinctive.
Recent ads also play with surreal, dreamlike imagery to immerse viewers in the fantastical Gucci world. Creative Director Alessandro Michele artfully blends vintage inspiration with eclectic modernity when depicting Gucci style. This innovative advertising keeps Gucci symbolism fresh and intriguing.
Fashion Collaborations
One of Gucci's go-to marketing tactics involves high-profile collaborations with other major fashion brands. These limited capsule collections generate huge buzz in the luxury space.
Recent examples include team-ups with The North Face, Balenciaga, and Adidas. Blending the recognizable design elements of each label, the cross-branded collections offer unique hybrid products for devoted fashion followers.
These collabs also expand Gucci's appeal to the partner brand's audience. The North Face partnership introduced outdoorsy consumers to Gucci luxury. Adidas fans appreciated Gucci's streetwear interpretation of their iconic sneakers.
Gucci even collaborated with luxury automobile maker Fiat in 2021 on a special Fiat 500 model with Gucci's colors and textiles inside and out. Collabs beyond just fashion widen the Gucci lifestyle.
This synergy marketing grabs attention while underscoring Gucci's elite status as a brand other labels aspire to work with. The products sell quickly given their exclusivity. For Gucci, the collaborations maintain buzz and pop culture relevance.
Experiential Retail
While ecommerce has grown, Gucci invests heavily in immersive physical retail environments. Its global network of opulent stores provides luxury shopping experiences that can't be replicated online.
Flagship locations like the Gucci Garden in Florence showcase the brand through interactive exhibits, exclusive collections and on-site restaurants. Gucci hotels and cafes offer further brand immersion.
In stores, amenities like cocktail bars, live DJs and floral displays make shopping a multi-sensory affair. Personable service caters to high-end shoppers. Gucci also provides customization of certain products in-store for a personal touch.
With experiential retail, Gucci aims to make consumers feel like VIPs. Clients forge emotional connections with the brand through memorable moments versus quick transactions. Experiential stores become destinations and reinforce Gucci as a lifestyle.
Influencer Partnerships
Like most top fashion brands today, Gucci works extensively with influencers to expand its reach. But Gucci is selective regarding who it partners with, focusing on key voices that embody both authority and allure.
Gucci formed long-term partnerships with pop superstars like Harry Styles and Billie Eilish, who regularly wear Gucci in music videos, performances and more. Their cultural cachet rubs off on Gucci when they don authentic Gucci style.
Fashion influencers are chosen for their bold aesthetics and high engagement. Gucci loans them new collections to model for their followers, generating organic hype around runway pieces. Micro influencers may be tapped for their niche audiences.
Even non-fashion influencers effectively promote Gucci's lifestyle appeal. Examples include artists, dancers, and athletes who integrate Gucci garments or accessories into their personal brands. This makes Gucci relatable yet aspirational.
Digital Content & Social Media
While print ads and billboards remain important, Gucci recognizes the value of original digital content and social media for today's audiences. The brand creates entertainment and editorial content aligned with its luxury image.
| Platform | Followers |
| --- | --- |
| Facebook | 19M |
| Twitter | 7.1M |
| Instagram | 52.6M |
| YouTube | 1.03M |
For example, the YouTube series "Gucci Podcast" features models and creatives having unfettered dialogues about art, culture and philosophy. Gucci also launched an Instagram show profiling employees to humanize the brand. Such content provides intriguing access to the Gucci worldview.
Gucci was also quick to partner with Snapchat in 2016 to reach younger consumers. Custom branded filters and AR lenses promoted new collections playfully via Snapchat campaigns.
Across social media, Gucci provides a mix of product highlights, behind-the-scenes footage, inspirational quotes and lifestyle photography. This content engages followers daily and sustains relationships with Gucci devotees.
Cause Partnerships
Alongside its luxury marketing efforts, Gucci has forged partnerships with various social causes to demonstrate corporate responsibility.
Its multi-year "Chime for Change" campaign promoted women's and girls' empowerment through education, health and justice programs. Gucci also funded diversity and inclusion initiatives, and last year pledged regular donations to UNICEF USA to aid vulnerable children.
While clearly benefiting communities, these cause partnerships also boost Gucci's reputation and appeal to socially-conscious consumers. They reveal Gucci's progressive values beyond just selling luxury goods.
Gucci can amplify its humble contributions through marketing campaigns spreading awareness. Purpose-minded marketing helps strengthen Gucci's image as a brand that gives back.
Creative Director Role
An unsung hero of Gucci's marketing has been its succession of visionary creative directors. These leading designers have reinvigorated Gucci's image at crucial times by updating its aesthetic.
Tom Ford brought rockstar glamor to Gucci in the 1990s. Frida Giannini emphasized sensuality with feminine collections in the 2000s. And most recently, Alessandro Michele has made Gucci synonymous with eclectic whimsy.
Each creative director put their distinctive stamp on Gucci marketing during their tenure. Their wildly varying creative visions ensured Gucci never went stale or predictable.
Continually reinventing a brand is hugely challenging. But Gucci's marketing has organically adapted around each creative director's radically distinctive styles and kept the label forever fashion-forward.
Also Read – PORSCHE SECRET MARKETING STRATEGY REVEALED
Consistent Iconography
A final aspect of Gucci's marketing prowess is how it blended changing creative visions with consistent brand iconography. Certain symbols like the double-G logo transcended each era of Gucci design.
Recurring motifs like the Flora pattern, equestrian references and red-green color schemes also flowed across campaigns. Gucci never lost its identity even through divergent phases.
This enabled freshened imagery and products while retaining brand familiarity. Customers could always recognize Gucci's touchstones no matter the creative director or trends.
Smart luxury brands aim to balance evolution with heritage in their marketing. Gucci has exemplified this, progressing dramatically over decades but retaining just enough classic cues.
Conclusion
Gucci has proven itself as more than just a luxury fashion label. It's a master brand builder. Gucci's marketing strategies have propelled it to iconic status by blending classic prestige with provocative innovation.
From boutique experiences to social media savvy, Gucci marketing covers all bases. The brand indulges devotees craving heritage while attracting new generations. This multifaceted marketing sustains desirability and unmatched fashion authority after 100 years.
Gucci follows no formula other than staying creatively daring. Its ever-changing marketing continues to capture the zeitgeist and make Gucci a beloved pop culture force. There is always a new facet of Gucci luxury to unveil and fascinate consumers with.
What do you think of Gucci's marketing playbook? What strategies resonate most to you as a consumer? Let me know your thoughts in the comments!