We are a affordable Web Design & Development Agency in Mumbai who care, build a stunning website with rich functionalities.
Eyes and minds work together in collaboration. Whatever we see, triggers the thought process, and then we dig deep into developments in our work. Similarly, a website is a place where design attracts the audience, and they, in turn, purchase different services provided. Get the web design right and gain viewers' trust.
Our Thoughts on Web Design and Development
A website is an integral part of everyone's business that sets a stage for any user to incorporate the best features on their web page to get audiences to participate in it.
We are always keen to enhance your website to influence the end users' thoughts. Technologically, we work on the websites deeply so that they could be visible on all devices and search engines.
Making brand-new websites, redesign and update the old into an engaging one is our expertise. Development of a website is particularly understanding what the user needs to develop or reorganize in his website to deliver the best features for his audiences'.
Our Web Design and Development Process
We work with a mindset of understanding what is your requirement and how well do you want to set your website. Also, knowing your business traits is what we grip on and then develop a criterion of how the website should be made.
Firstly, we listen to your thoughts, know your business, recognize your audience, and identify what your term goal is. We later discuss the graphics, fonts, and various web design attributes. Our team understands your aspirations and then looks forward to executing the plan.
Design is what makes any object or interface look more enhanced. We look back onto your desires of framework and set a platform for designing canvas. Our content team makes sure that your content has been optimized to help you appear on any search engine's preface.
After the huge design process, our coding experts come into play with their vital roles. They provide coding to every element of the design and make it responsive. After your approval on the design and coding, we take the whole process to the launch stage but before that, we even keep some outlines for your end-to-end changes.
This is the day when you officially will shoot your websites for everyone. We make sure that everything goes in a row and nothing gets derailed from your website.
KEEP IN THE LOOP
Our Expertise App
Web design (Homepage design, landing and subpage design, blog design)
Frontend Website development (Responsive design)
CMS Integration (Content Management System)
Interface Design (UX/UI)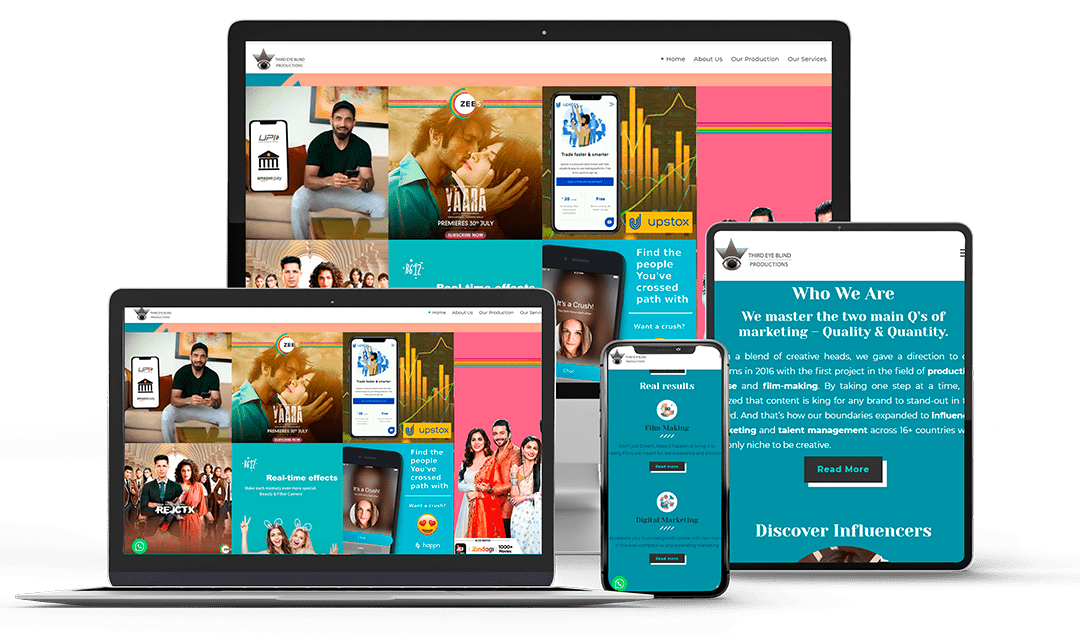 Start Right Now
THIRD EYE BLIND PRODUCTIONS lets you explore your ideas and imprint them on the website canvas!!!
If you want your dreams to come true and upgrade your business with just a look at your creative and innovative website, CONNECT US today.