PUMA is one of the world's leading sportswear brands designing shoes, apparel and accessories. This comprehensive guide will examine the key components of PUMA's marketing strategy that have fueled its global growth.
Introduction
PUMA is a leading German sportswear brand specializing in footwear, apparel and accessories. Key facts:
Founded in 1948 by Rudolf Dassler
Headquarters in Herzogenaurach, Germany
Over 13,000 employees and presence in 120 countries
Manufacturer for top athletes and sports teams
Main competitor brands are Nike, Adidas and Under Armour
Premium positioning with high brand equity
€5.23 billion revenue in 2019
PUMA has built an influential brand synonymous with sports performance and style. Its marketing strategy balances sports heritage with lifestyle branding. We'll analyze the factors driving PUMA's connection with fans globally.
PUMA's Target Audience
PUMA uses marketing to connect with sports and style-focused consumers globally including:
Performance athletes engaged in running, football, motorsports etc.
Fashion and streetwear audiences
Style-conscious millennials and Gen Z
Trendsetters seeking sports-inspired apparel
Women interested in active living and fitness culture
Parents looking for kids' athletic footwear
This range of targets is addressed through tailored branding initiatives. Sports performance remains PUMA's foundation even as it evolves lifestyle appeal.
PUMA's Brand Positioning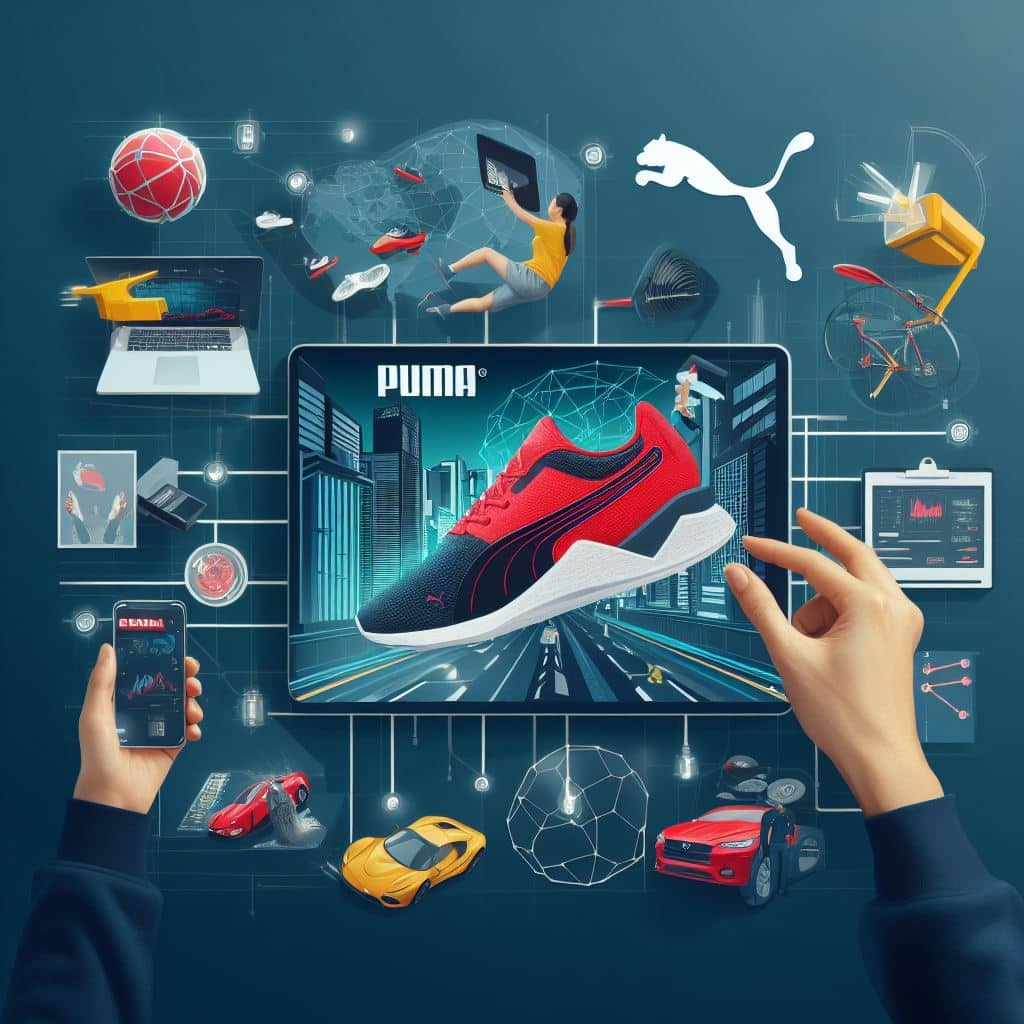 PUMA has crafted a distinct brand positioning strategy that resonates worldwide:
Sports Credibility
PUMA preserves its heritage of designing cutting-edge footwear and apparel for athletes. Associations with top sportspeople and teams maintain its credibility.
Fashionable Styling
While performance remains robust, PUMA highlights aesthetic sensibilities through its designs that blend sport and lifestyle.
Premium Pricing
Products are positioned as high-quality and priced accordingly to reflect their technical and design innovation
Creative Collaborations
Partnerships with celebrities, designers, and influencers inject fresh perspective into PUMA's brand image and products.
This unique blend of sports performance, style and pop culture allows PUMA to straddle both worlds successfully.
PUMA's Marketing Mix
Let's examine how PUMA brings its brand strategy to life:
Product Mix
PUMA's product categories span athletic footwear, apparel, and accessories for sports and lifestyle:
Performance – Running, training, football, golf, motorsports shoes and gear.
Sportstyle – Fashionable sneakers and clothing incorporating sports cues
Classics – Retro footwear and apparel with iconic heritage designs
Between its performance and lifestyle lines, PUMA delivers versatile options.
Pricing Strategies
As a premium brand, PUMA's pricing stays on the upper end for sports and fashion brands. Pricing cues include:
Premium Segment Pricing – Benchmarked above mass brands
Penetration Pricing for New Launches – Competitive introductory pricing on new product drops
Bundled Pricing – Reduced prices when purchasing multiples
Psychological Pricing – Using odd numbers like $99 instead of rounding to appeal subconsciously as a deal
Premium pricing reinforces PUMA's positioning while promotions hit key price thresholds.
Distribution Strategy
PUMA sells across a variety of online and brick-and-mortar channels globally:
Independent retailers – Footwear specialty chains and sporting goods stores
Company ecommerce – PUMA.com and regional websites
Multi-brand ecommerce – Third-party retailers like Zalando and Zappos
PUMA stores – Over 550 flagship and outlet stores
Department stores – Presence in major retail chains internationally
This distribution breadth ensures PUMA is accessible and experiences are consistent.
Promotions Mix
PUMA promotes its brand through:
Athlete sponsorships – Partnerships with sports stars like Usain Bolt and Lewis Hamilton
Influencer marketing – Collaborations with celebs and creators like Kylie Jenner
Paid advertising – Social media ads, programmatic display, TV campaigns etc.
Owned media – Brand website, YouTube, social channels, and mobile apps
Retail experiences – Store campaigns, mall pop-ups, and interactive zones
Partnerships – Co-branding with designers and brands like Ferrari
This promotion diversity amplifies PUMA's exposure worldwide.
Also Read – COLGATE MARKETING STRATEGY – THE TOOTHPASTE BRAND
Digital Marketing Strategies
PUMA embraces digital experiences to engage younger audiences:
Social Media Marketing
PUMA cultivates brand communities through social content on Instagram, Facebook, Twitter and TikTok centered around sports, style and pop culture.
Influencer Partnerships
Collaborations with macro, micro and nano-influencers globally generate credibility with niche audiences.
SEO Initiatives
PUMA optimizes website content for key search terms like product names and sports-inspired fashion to enhance discovery.
Retail Apps
Flagship apps like 'PUMA Select' offer features like product voting, AR try-ons, store navigation and contactless checkout.
Interactive Video
Cinematic and shoppable video storytelling on YouTube including documentaries on PUMA athletes and virtual product launches.
These digital initiatives enable personalized engagement between PUMA and fans globally.
Brand Partnerships
Co-branding amplifies PUMA's popularity and cool factor:
Celebrity Partnerships
Associations with musicians, models and actors like The Weeknd, Cara Delevingne and Winnie Harlow fuse sports and culture.
Designer Collaborations
Capsule collections co-created with leading fashion designers like Mihara Yasuhiro generate buzz.
Sports Teams and Events
Sponsorships of international football clubs like Manchester City and Ferrari's F1 team connect with mass audiences.
Gaming Partnerships
Aligning with gaming through esports team sponsorships and in-game cosmetic packs taps Gen Z.
These culturally relevant partnerships allow PUMA's brand presence and appeal to transcend footwear.
Geographic Marketing
Given its worldwide presence, PUMA tailors marketing regionally:
Americas
Showcases sports performance heritage and appeals to sneaker culture. Focuses on basketball and football.
Europe
Balances sports positioning with trendy lifestyle branding through fashion events and influencers.
Asia
Spotlights athletic functionality for sports like running along with kawaii-style cuteness in Japan.
Middle East
Taps into the premium streetwear craze and collaborates with regional tastemakers.
Localized understanding helps PUMA gain share of mind and wallet across markets.
Marketing Campaign Examples
PUMA executes creative marketing campaigns globally:
"She Moves Us"
Women-focused initiative celebrating female empowerment through sports participation and fitness.
PUMA x Black Station
Collaboration with this key sneaker culture player drove hypebeast credibility in China.
Bring It Back Packaging
Sustainable packaging initiative using recycled materials and nostalgic retro designs.
These campaigns generate engagement through resonance with local audiences and influences.
Conclusion
In closing, PUMA's marketing excellence stems from harmonizing its sports heritage with culturally relevant lifestyle positioning. This balances performance credentials with mainstream appeal. Through geographic sensitivity, digital innovation, strategic partnerships and integrated messaging, PUMA sustains global resonance with a broad audience. The marketing mix maximizes brand equity and maintains the essence of PUMA while evolving for the future.