Golden arches, golden nuggets, crispy fries, and an ice-cold Coke – who doesn't have a soft spot for McDonald's? But fret not, this isn't another McDonald's jingle; it's a journey into how a modest California burger joint transformed into the global giant we know today.
In this delectable exploration, we'll unveil the fascinating history behind the iconic McDonald's brand. We'll uncover the ingenious strategies that set Ronald's Palace leagues ahead of its competitors, and discover the invaluable marketing lessons hidden within the success of McDonald's. But before we dive in…
McDonald's History: The Ascent of the Golden Arches
McDonald's has conquered the world with its mouthwatering offerings and shrewd marketing tactics, ranking as the 9th highest-value brand globally.
The birth of this revolutionary fast-food empire, however, had humble beginnings. Richard and Maurice McDonald opened the first McDonald's restaurant in 1940 in San Bernardino, California. There, the brothers introduced the Speedee Service System, a game-changer that slashed food prep time from a daunting 20 minutes to a lightning-fast one minute.
By focusing on a streamlined menu comprising burgers, fries, shakes, and beverages, the brothers built a highly efficient operation, offering both quality food and swift service.
Eager to capitalize on their initial success with this novel "fast-food" concept, the McDonald brothers enlisted Ray Kroc as their franchise agent. Kroc's involvement marked a turning point, as he spearheaded the opening of new restaurants across the nation. In 1961, he purchased the rights to McDonald's from the brothers, and the rest is history.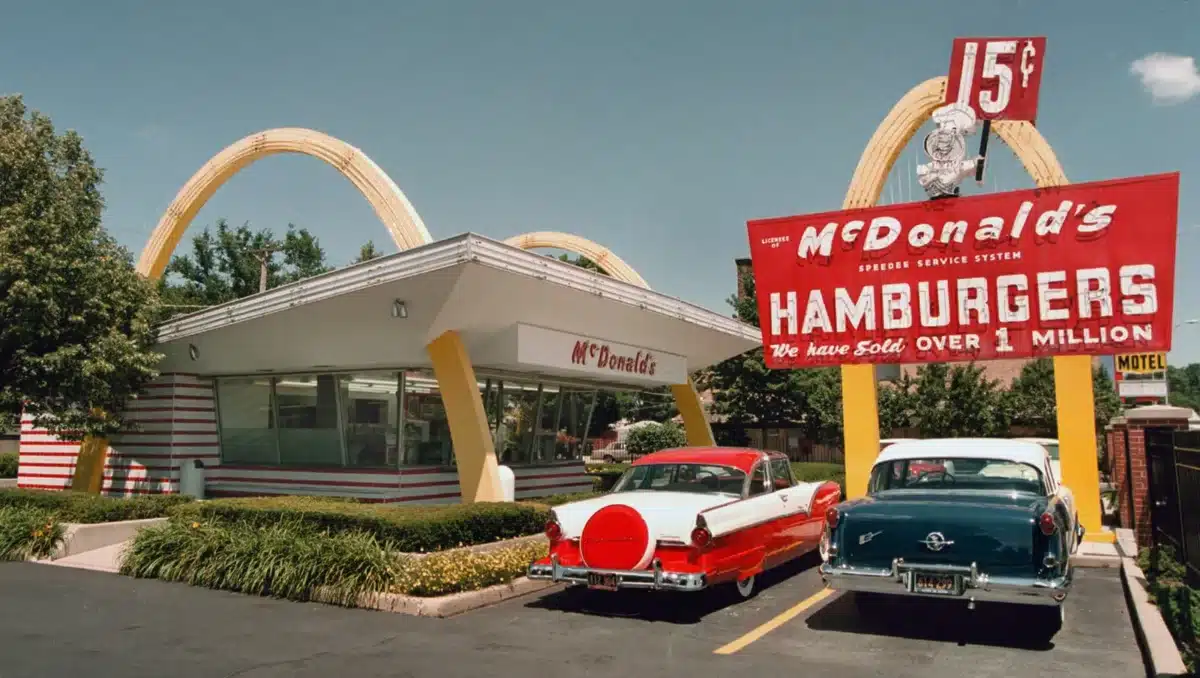 From that juncture, McDonald's growth was nothing short of meteoric. In 1957, McDonald's boasted 40 stores, raking in over $3 million per year. Come the 1960s, there were around 1,000 McDonald's franchises in the US.
Today, the company commands a staggering $20 billion in annual revenue, with 39,198 independently owned and operated McDonald's franchises worldwide.
Such monumental success didn't emerge out of thin air.
The Foundation of Success: Values and Standards
One of the first monumental ideas Ray Kroc employed to drive McDonald's toward success was a simple yet groundbreaking concept: consistency. He envisioned a restaurant where the food tasted the same in Alaska as it did in Alabama. This commitment to uniformity laid the cornerstone of McDonald's global appeal.
Kroc also championed four core values at the heart of the McDonald's brand: quality, service, cleanliness, and value. These weren't just words; they were the guiding principles that underpinned every aspect of McDonald's operations.
In Kroc's own words, "If I had a brick for every time I've repeated the phrase Quality, Service, Cleanliness, and Value, I think I'd probably be able to bridge the Atlantic Ocean with them."
These values were further fortified by three indispensable pillars of McDonald's success: franchisees, suppliers, and employees.
Franchisees:
Every McDonald's franchisee is more than just a business owner; they are an extension of the McDonald's family. To ensure they uphold the brand's core values, they undergo rigorous training at McDonald's "Hamburger Academy." Here, they learn the art of providing quality food, impeccable service, spotless cleanliness, and undeniable value.
Suppliers:
The selection of suppliers is a meticulous process aimed at securing quality ingredients. McDonald's proudly supports local and regional farms and supply lines, ensuring that their food remains fresh while nurturing the communities where their restaurants stand.
Employees:
While McDonald's employees may sometimes be the subjects of jokes in popular culture, they are invaluable within the system envisioned by Kroc. The company often serves as a helping hand, aiding struggling employees in getting back on their feet. As actor James Franco, a former McDonald's employee, once put it, "All I know is that when I needed McDonald's, McDonald's was there for me. When no one else was."
For those of us who've craved a late-night, budget-friendly meal, this sentiment hits home.
4 Game-Changing Marketing Strategies That Turned McDonald's into a Global Powerhouse
So, what did McDonald's do differently that catapulted it beyond the competition and into the fast-food hall of fame? Let's unravel the four key marketing strategies that transformed a small burger joint into an empire:
1. The Pioneering Franchising Model: The Blueprint for Success
Today, franchising is commonplace, but McDonald's was one of the pioneers of this game-changing model. What set it apart? Two key factors.
First, McDonald's left no stone unturned in ensuring consistent quality across its franchises. Every burger, fry, and shake had to meet the same impeccable standards, whether you were in New York or New Delhi.
Second, they redefined the concept of "think global, act local." McDonald's invested in sourcing region-specific products and tailored menus to match local tastes. By holding steadfast to its core principles (quality, service, cleanliness, and value) and incorporating the flavors of each region, McDonald's found the recipe for success.
This genius approach allowed them to expand into new markets seamlessly, ensuring that each franchisee could thrive, no matter where they set up shop.
Also Read – AN IN-DEPTH ANALYSIS OF PUMA'S MARKETING STRATEGY
2. Catering to All Ages: The Art of Inclusive Marketing
In the world of fast-food, identifying a singular target audience can be as slippery as a pickle. McDonald's tackled this challenge head-on by positioning itself as the go-to option for everyone, no matter their age. In essence, they set their sights on serving "the entire family."
From the iconic Happy Meal to more substantial packages and portion sizes, McDonald's ensured that anyone with an appetite could turn to them for a solution, be it a hearty meal or a quick snack. McDonald's didn't just serve food; it served convenience and inclusivity, making it the obvious choice for families, youngsters, and adults alike.
3. The Core That Never Wavers: Relentless Dedication to Key Products
McDonald's secret sauce to enduring success? Staying unwaveringly true to its core product offerings. This practice traces its roots back to the original McDonald brothers, who built their brand by offering a remarkably limited menu.
By keeping it simple, they could deliver high-quality products with lightning-quick service times, a formula that has remained a cornerstone of McDonald's identity.
4. Adapting to Customer Demands: A Recipe for Resilience
A pivotal moment for McDonald's came with the release of "Super Size Me," a documentary that shed light on the potential downsides of a diet heavily reliant on processed food. It was a wake-up call for both the company and consumers.
In response, McDonald's diversified its menu to include more health-conscious options, embracing the changing landscape of dietary preferences. The company took an open approach by publishing nutrition information on its menu and products, proving its commitment to meeting customer demands for transparency and healthier choices. This adaptability has helped McDonald's navigate the shifting tides of the fast-food industry while retaining its status as a beloved household name.
McDonald's Marketing Mix: The Recipe for Success
For those who prefer the classic approach, let's break down McDonald's marketing strategy using the legendary 4Ps:
Product:
McDonald's offers a mouthwatering array of fast-food options that span classic American staples like burgers and fries, a tempting selection of sweets and beverages under the McCafe banner, and beloved McDonald's-specific favorites such as the iconic Big Mac and Quarter Pounder.
Price:
At the heart of McDonald's strategy lies a commitment to value-based pricing. They relentlessly aim to deliver exceptional value to their customers across the entire menu. The introduction of the $1-$3 menu reinforces their goal of keeping prices as wallet-friendly as possible.
Place:
Thanks to McDonald's franchising model, you can practically find a restaurant nearby wherever you are. Their pervasive presence makes them easily accessible. Furthermore, McDonald's continues to expand its reach through delivery options in collaboration with services like Uber Eats, Doordash, and others.
Promotion:
McDonald's leaves no stone unturned when it comes to promotion. They invest staggering amounts in advertising, spanning from traditional mediums like TV and radio to innovative approaches in the digital realm. You'll find them on social media, employing guerrilla marketing tactics, and experimenting with various promotional avenues. Their central message? McDonald's is the perfect restaurant for the entire family, an idea they strive to reinforce in every campaign.
4 Lessons to Borrow from McDonald's Marketing Mastery
McDonald's isn't just about burgers and fries; it's a masterclass in marketing. Here are four strategies that you can steal from their success:
Invest in Core Products:
McDonald's secret sauce to continuous success is nurturing and promoting its core product offerings. From the iconic Big Mac to its famous fries and even the beloved chicken nuggets, McDonald's consistently refines and enhances its fan favorites. The recent 2 for $5 deal featuring its primary menu stars (Big Mac, Quarter Pounder with Cheese, McNuggets, and Filet O' Fish) is a prime example of their dedication. Emulate this approach for your business by identifying your core products and exploring opportunities to introduce them to a wider audience. By allocating marketing and development resources to your core offerings, you can ensure a steady revenue stream while also expanding or developing new products.
Embrace Agility and Proactivity:
When faced with the backlash following the release of "Super Size Me," McDonald's demonstrated remarkable agility. The company swiftly adjusted its menu, marketing, and internal policies to meet customer demands for a healthier, more transparent dining experience. In today's social media-driven landscape, staying agile is essential. Keep a close watch on your digital channels, listen to what your customers and outsiders are saying about your business, and seize opportunities for improvement that might be right under your nose.
These are the first two strategies from McDonald's marketing success. If you'd like me to continue with the other two, please let me know.
Also Read – COLGATE MARKETING STRATEGY – THE TOOTHPASTE BRAND
Broad Target, Big Budget: The Multichannel Approach
McDonald's brand identity as a fast, family-friendly option means it caters to a vast and diverse target audience. With such a broad spectrum of customers, focusing on one particular audience and channel can be challenging. To address this, McDonald's allocates significant resources to advertising across a wide variety of channels.
What can you learn from this approach? You have two options: narrow down your target audience or diversify your marketing budget. In the latter case, you can experiment with different channels to identify the most effective ones and then allocate more resources to them. However, if your goal is to appeal to a wide range of customers, your marketing strategy should aim to reach as many as possible.
Cracking New Markets: Adapting to Local Tastes
Expanding into new markets is a growth strategy that requires adapting to the unique preferences of each region. For McDonald's, this involves sourcing local ingredients and adjusting menus to cater to regional tastes. Similarly, for your brand, it might entail tailoring your outreach efforts to align with cultural norms or creating content in multiple languages.
By doing so, you can bridge the gap between new markets and your product, effectively breaking down barriers and laying the foundation for a loyal customer base in those regions.
These are the final two strategies drawn from McDonald's marketing success. If you have more to add or need further information, please feel free to ask.
In Conclusion: Unpacking McDonald's Recipe for Marketing Success
As we draw the curtain on our exploration of McDonald's marketing triumphs, it becomes clear that the golden arches have served as a beacon for countless businesses aiming to make their mark in a competitive world.
From their unwavering commitment to core products and swift responsiveness to customer feedback to their adaptability across diverse markets and multichannel approach for an expansive target audience, McDonald's offers a feast of insights for businesses of all sizes and industries.
The enduring appeal of McDonald's lies not only in the meals they serve but in their masterful marketing that has allowed them to evolve and grow while staying true to their core values. Whether you're a small startup or a global corporation, there's something to be learned from the iconic fast-food giant.
In the ever-changing landscape of business and marketing, embracing these strategies from the McDonald's playbook can be the key to achieving your own success story. And remember, while McDonald's might say, "I'm loving it," you, too, can create a brand and marketing strategy that leaves your customers saying, "I'm loving them."
So, take a page out of the McDonald's playbook and start flipping your own success story today.