Dunkin' Donuts is one of the most established quick-service restaurant (QSR) brands in America known for its coffee, donuts and breakfast fare. This in-depth guide will analyze Dunkin's versatile marketing strategies that fuel its growth and immense popularity.
Introduction
Dunkin' Donuts is an iconic coffee and baked goods chain founded in 1950 in Massachusetts. Key facts about the brand:
Over 13,000 stores in 40+ countries, majority in the US
Brand evolution to Dunkin' in 2018 with growing focus on beverages
Top selling QSR coffee brand in the US with over 2.5 billion annual sales
Caters to on-the-go urban professionals, students and families
Loyalty program with over 14 million members in the US
Revenue of $1.6 billion in 2022 despite Covid impacts
Dunkin' has crafted intelligent marketing strategies tuned to their target customers' needs and changing lifestyles. Let's examine what sets their marketing apart.
Dunkin' Target Audience
Dunkin' caters to a wide target audience, but focuses particularly on:
Millennials and younger consumers like college students
Urban professionals leading busy, on-the-go lifestyles
Middle and lower-middle income households
Americans who identify with the local community culture
Dunkin's marketing aims to embed themselves into their target customers' daily routines. Their messaging highlights speed, convenience and affordable indulgence.
Dunkin' Brand Identity
Dunkin' has carved a distinct brand identity through marketing over the decades:
Local Favorite
Positioned as a beloved neighborhood spot reflecting each community's character.
Part of Daily Ritual
Fits seamlessly into people's regular morning or coffee runs as quick fuel.
Affordable Indulgence
Offers a taste of indulgence with premium coffee and donuts at a fair price.
Hard-Working Attitude
Brand tone resonates with the no-fuss mentality of busy blue-collar Americans.
This unique personality allows Dunkin' to cut through the competitive QSR landscape.
Also Read – INSIDE SHOPIFY'S WINNING MARKETING STRATEGY FOR ECOMMERCE BRANDS
Dunkin' Menu Marketing Strategy
Dunkin's menu and innovation pipeline reflects customer tastes and changing trends:
Coffee Focus
Expanded specialty coffee offerings and customization to win share-of-stomach from cafes. New cold coffee taps growth.
Donut Innovation
Frequently introduce exciting donut flavors around seasons, holidays, pop culture through LTOs (limited time offers).
Healthier Options
Introduced better-for-you sandwiches, breakfast bowls and snackin' bacon to balance indulgence.
Regional Innovation
Market-specific menu innovation caters to local tastes like saffron milk tea.
Menu marketing keeps customers returning to try the latest offerings.
Dunkin' Pricing Strategy
Pricing plays an important role in Dunkin's marketing mix:
Value Positioning
Lower prices than Starbucks or cafes for comparable coffee and food. Perceived as more affordable.
Bundled Meals
Combo offers like breakfast sandwiches with any size coffee provide a value price bump.
Limited Offers
LTO donuts and premium beverages allow Dunkin' to occasionally stretch price points.
Regional Pricing
Price flexibility by market depending on competitor dynamics and purchasing power.
Affordable pricing makes Dunkin' accessible while providing revenue-driving flexibility.
Also Read – 10 TIMES BRANDS CLEVERLY PLACED THEIR PRODUCTS IN BOLLYWOOD MOVIES
Dunkin' Store Marketing
Dunkin' integrates marketing into the store experience:
Convenient Locations
Heavy penetration in high-traffic areas like college campuses, malls and downtowns puts Dunkin' in customers' paths.
Double Drive-Thrus
Dual drive-thru lanes maximize speed and capacity to serve busy commuters quickly.
Go-to Beverage Branding
Bold in-store signages and displays reinforce Dunkin' as a leading beverage destination.
Digital Innovations
Self-order kiosks and mobile app allow fast ordering ahead for pickup.
These in-store elements align closely to how core customers want to interact with the brand.
Dunkin' Digital Marketing Strategies
Digital and mobile marketing are key growth priorities:
Loyalty App
Launch of DD Perks loyalty app offers deals for ordering ahead or in-store to incentivize usage.
Omni-Channel Options
Customers can order on app, website, in-store, drive-thru, curbside, at gas stations or on-the-go.
Social Media Engagement
Dunkin' creates fun social content fans want to share on food, drinks, holidays, partnerships and more.
Geofenced Mobile Ads
Targeted ads for hot coffee on cold days, afternoon pick-me-ups when nearby stores etc.
These initiatives aim to integrate Dunkin' seamlessly into customers' digital lifestyles.
Dunkin' Traditional Advertising
Despite digital migration, traditional advertising remains important for brand-building:
Localized Advertising
Billboards, local partnerships, community events and sponsorships build hyper-local engagement.
Television Commercials
Mass reach platforms spotlight new product launches and brand messaging nationally.
Radio & Streaming Audio
Radio keeps Dunkin' top-of-mind during peak breakfast and coffee hours throughout the week.
Out-of-Home Advertising
Transit, office towers, campuses, gyms and more maximize exposure for the on-the-go crowd.
Dunkin' leverages traditional advertising's scale for sustained visibility.
Dunkin' Social Impact and Partnerships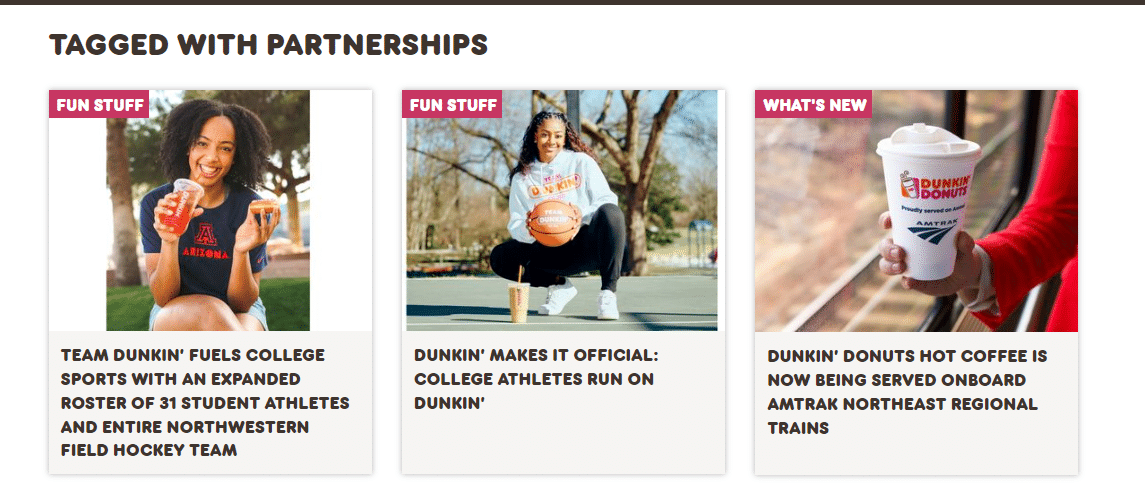 Beyond just marketing, Dunkin' aligns social impact with its brand values:
Sustainability Initiatives
Transition to recyclable cups and sustainable packaging
Source coffee and cocoa ethically through established certifications
Community Support
Partnerships with local children's hospitals through Joy in Childhood Foundation
Franchise Owners engage closely with their communities
Affordable Access
Value menu makes Dunkin' accessible to lower-income households
Partnerships with regional grocers and C-Stores for retail packaged coffee
These initiatives cultivate trust and affinity with millennial and Gen Z consumers who care deeply about corporate values. It also fuels local relevance.
Dunkin' Loyalty Program
DD Perks is Dunkin's hugely successful loyalty program with over 12 million members. Key aspects:
Points for Purchases
Earn points for every purchase that can be redeemed for free food or drinks
Exclusive Offers
Members get access to personalized deals and freebies like a free donut on their birthday
Order Ahead Features
Pre-order and skip the line in-store or drive-thru through the app
Gamification
Tiers like 'Overachiever' badging for heavy users taps into competition
Loyalty marketing retains existing high-value customers.
Social media Data
| Platform | Followers | Engagement rate |
| --- | --- | --- |
| Facebook | 12.5 million | 1.5% |
| Twitter | 6.5 million | 1.2% |
| Instagram | 3.5 million | 3.5% |
| TikTok | 4 million | 5.5% |
Dunkin's Marketing Slogans Over Time
Catchy slogans have helped Dunkin' gain mindshare over the decades:
1950s – "Dunkin' Donuts, America's Favorite"
1960s – "You're Dunkin' Good!"
1970s – "America Runs on Dunkin'"
1980s – "You can't get away from Dunkin' Donuts"
2000s – "America's Favorite Coffee"
2010s – "America Runs on Dunkin'"
2020s – "Your daily fuel for good"
These consistent slogans reinforce Dunkin's strong American heritage.
Conclusion
Dunkin's marketing covers everything from product menu innovation, value pricing, branding and slogans to digital engagement, loyalty marketing and impact initiatives. Together this drives emotional resonance and share-of-stomach with core demographics. By evolving while staying true to their working-class coffee heritage, Dunkin' continues to thrive despite fierce competition. Their versatile marketing mix provides invaluable lessons for challenger QSR brands striving to establish similar mindshare and customer rituals.