The article explores Lenskart's marketing strategy.
It breaks down Lenskart's marketing strategy using the 4Ps framework: Product, Price, Place, and Promotion.
Lenskart's visionary product strategy is discussed, emphasizing customization, brand diversity, and customer-centricity.
The pricing paradigm focuses on value, affordability, and customer assurance.
The strategic reach encompasses Lenskart's online and offline presence, ensuring accessibility for customers.
The article delves into Lenskart's promotional and advertising symphony, highlighting digital dominance and innovative schemes.
Beyond the classic 4Ps, Lenskart excels in the other dimensions of the 7Ps marketing mix.
The article concludes by emphasizing Lenskart's position as a visionary marketing success story in the eyewear industry.
Lenskart Marketing Strategy & Marketing Mix (4Ps)
When it comes to understanding how a brand like Lenskart has conquered the eyewear market, there's no better lens to look through than the marketing mix framework, often referred to as the 4Ps – Product, Price, Place, and Promotion.
These four pillars form the cornerstone of Lenskart's marketing strategy, enabling them to not just survive but thrive in a highly competitive industry. Let's delve into the Lenskart's Marketing Strategy & Mix to uncover the intricacies of their product offerings, pricing tactics, advertising prowess, and distribution strategies.
Lenskart's Visionary Product Strategy
In the realm of eyewear and eye care, Lenskart doesn't just provide products; it crafts experiences. Their product strategy is a symphony of customization, brand diversity, and customer-centricity that sets them apart in the market.
Customization for Everyone:
Lenskart understands that no two pairs of eyes are the same. Their made-to-order spectacles, contact lenses, and sunglasses cater to the unique needs of individuals. Whether you need single vision, bifocal, or progressive spectacles, Lenskart has you covered. The brand thrives on the idea that eyewear isn't just a necessity; it's a fashion statement.
A World of Brands:
Lenskart's arsenal of brands reads like a who's who in the eyewear industry. From iconic names like Ray-Ban and Tag Heuer to trusted choices like Bausch and Lomb and Johnson & Johnson, they offer a spectrum of options. This extensive brand portfolio ensures that customers of all tastes and preferences find their perfect fit.
The Prescription Precision:
One of Lenskart's standout features is their ability to transform a prescription into a personalized eyewear masterpiece. The process is as simple as presenting your prescription, and voilà – your glasses are tailored to your unique visual needs.
Sizing with Precision:
Lenskart doesn't believe in a one-size-fits-all approach. They offer glasses in small, medium, and large sizes, acknowledging the diverse face shapes and sizes of their customers.
Fashion Beyond Function:
Lenskart taps into the sentiment that owning multiple pairs of glasses is a common affair. They've successfully positioned eyewear not just as a vision aid but as a fashion accessory, allowing customers to express their style through their frames.
A Comprehensive Eye-Care Ecosystem:
Beyond the frames, Lenskart dives into the world of eye care. They offer a one-year warranty on their products, instilling confidence in their quality. To complement their eyewear, they provide essential accessories like lens solutions, wiping cloths, stylish stands, and more, ensuring customers have all they need for their eye-care regimen.
In Lenskart's product strategy, every pair of glasses isn't just a product; it's a canvas for individual expression and a testament to their commitment to delivering eyewear excellence.
The Lenskart Pricing Paradigm: Value, Affordability, and Assurance
In the world of eyewear, Lenskart doesn't just set trends in fashion; it redefines the game of pricing strategy. Their approach is a well-balanced blend of catering to diverse income brackets while ensuring that quality and affordability go hand in hand.
Value-Based Pricing:
Lenskart's pricing strategy is akin to a finely tuned instrument. They recognize that their customers hail from various income brackets, each with unique needs and expectations. As a response to this diversity, Lenskart employs a value-based pricing model. This means that their products are priced in accordance with the value they offer to their customers. Whether you're searching for budget-friendly options or premium eyewear, Lenskart has a price point that aligns with your requirements.
Direct-to-Customer Efficiency:
One of Lenskart's remarkable cost-saving tactics is their direct-to-customer delivery model. By cutting out many middlemen in the supply chain, they significantly reduce operational costs. This efficiency is reflected in their pricing, allowing customers to enjoy savings of up to 50% compared to traditional retail outlets.
Customer-Centric Returns:
Lenskart's "no questions asked" return policy is a testament to their commitment to customer satisfaction. While they offer this flexible return option, they also boast one of the lowest return rates in the eyewear industry, hovering around a mere 4%. This statistic highlights their dedication to delivering products that meet or exceed customer expectations.
In Lenskart's pricing strategy, the focus is clear: value, affordability, and customer assurance. Whether you're a budget-conscious shopper or looking for premium eyewear, Lenskart's pricing strategy ensures that you'll find eyewear that suits your style and your pocket.
Also Read – NIKE'S MARKETING STRATEGY: AN INSIDE LOOK AT THE BRAND WITH SWOOSH APPEAL
Lenskart's Strategic Reach: Online, Offline, and Beyond
Lenskart's place and distribution strategy is a testament to their commitment to making eyewear accessible to customers far and wide. They've created a seamless omni-channel experience that bridges the online and offline worlds.
Online Accessibility:
As an online eyewear brand, Lenskart has a digital footprint that spans across the nation. Customers can access their website from virtually anywhere. Their online portal caters to more than 450 cities across India, ensuring that eyewear is just a click away. To further enhance their reach, Lenskart has partnered with a network of third-party vendors, including trusted names like BluDart, Javas, and Delhivery. This partnership allows for efficient and reliable deliveries, even to remote locations.
Offline Expansion:
Recognizing the significance of a tactile experience in eyewear shopping, Lenskart ventured into the offline world. They've set up physical stores in more than 66 cities across India, including both tier I and tier II cities like Agartala, Tirupathi, Siliguri, Raipur, Haridwar, and Varanasi. This strategic move ensures that customers have the option to try on frames, receive personalized assistance, and experience the brand firsthand.
In a world where online and offline are often viewed as competitors, Lenskart harmonizes these channels. They've created a synergy that empowers customers with choices. Whether you prefer the convenience of online shopping or the in-store experience, Lenskart is there, ready to cater to your eyewear needs.
Lenskart's Visionary Promotion & Advertising Symphony
Lenskart's success story isn't just about offering eyewear; it's about creating a brand that resonates with customers, constantly engaging and innovating through its promotional and advertising strategies.
Digital Dominance:
Lenskart knows the importance of staying top-of-mind, and they've mastered the art of digital promotion. Their extensive presence on social media keeps the brand alive in the minds of consumers. Additionally, they offer round-the-clock helpline services, ensuring that customer support is just a call away.
Email Marketing Excellence:
In collaboration with netCore, a specialist in email-based marketing,Lenskart harnesses the power of email marketing. Their well-crafted email campaigns not only keep customers informed but also engage them effectively.
Innovative Schemes:
Lenskart's promotional schemes are designed to delight customers. Initiatives like "First Frame Free" showcase their commitment to affordability. They also offer an exchange option for old frames, a "Try at Home" service where customers can order up to five frames to try and select, virtual try-ons using model pictures, home eye check-up services, and a doctor locator to find the nearest ophthalmologist. These schemes not only make Lenskart popular but also foster trust and customer loyalty.
Multi-Media Impact:
TV commercials and print advertisements have played a pivotal role in Lenskart's growth. With these, they've not only reached a wider audience but also cemented their brand identity.
The 7Ps Marketing Mix
In the realm of service marketing, Lenskart goes beyond the classic 4Ps. They acknowledge the significance of People, who are the backbone of their young and spirited team. Experiential learning and a strong focus on employee value form the cornerstone of their People strategy.
Physical Evidence:
Lenskart's physical presence is unmistakable, both online and offline. Their logo is a symbol of recognition, especially among the younger generation. Partnering with popular brand ambassadors like Purab Kohli, they've tapped into the trendy eyewear market effectively.
Process Excellence:
Lenskart doesn't just sell eyewear; they deliver precision. Using cutting-edge technology, including machines from US-based company Welch Allyn, they ensure micro-precision glasses with errors corrected up to 0.00 degrees. Their commitment to process excellence is evident in every pair of glasses they deliver.
Also Read – MICROSOFT'S SECRET TO SUCCESS: THEIR MARKETING STRATEGY REVEALED
Unveiling Lenskart: Your Visionary Eyewear Destination
From its humble beginnings as an online eyewear portal to its current status as a sprawling network of physical stores, Lenskart has rewritten the script for eyewear shopping. Today, it proudly stands as the number one destination for online eyewear purchases, offering a plethora of solutions to meet the diverse needs of its customers. Let's delve deeper into the story of Lenskart and the visionaries behind it.
Co-Founders' Vision:
Lenskart was brought to life through the collaborative efforts of three visionaries – Sumeet Kapahi, Amit Chaudhary, and Peyush Bansal. Their shared vision was to create an eyewear brand that not only provided a wide array of choices but also catered to the unique budgets and preferences of their customers.
An Ocean of Styles:
Lenskart is home to a staggering collection of over 10,000 eyewear styles. This vast assortment ensures that customers have the freedom to pick and choose from a diverse range of frames, lenses, and sunglasses, all while staying within their budget.
The One-Stop Eyewear Hub: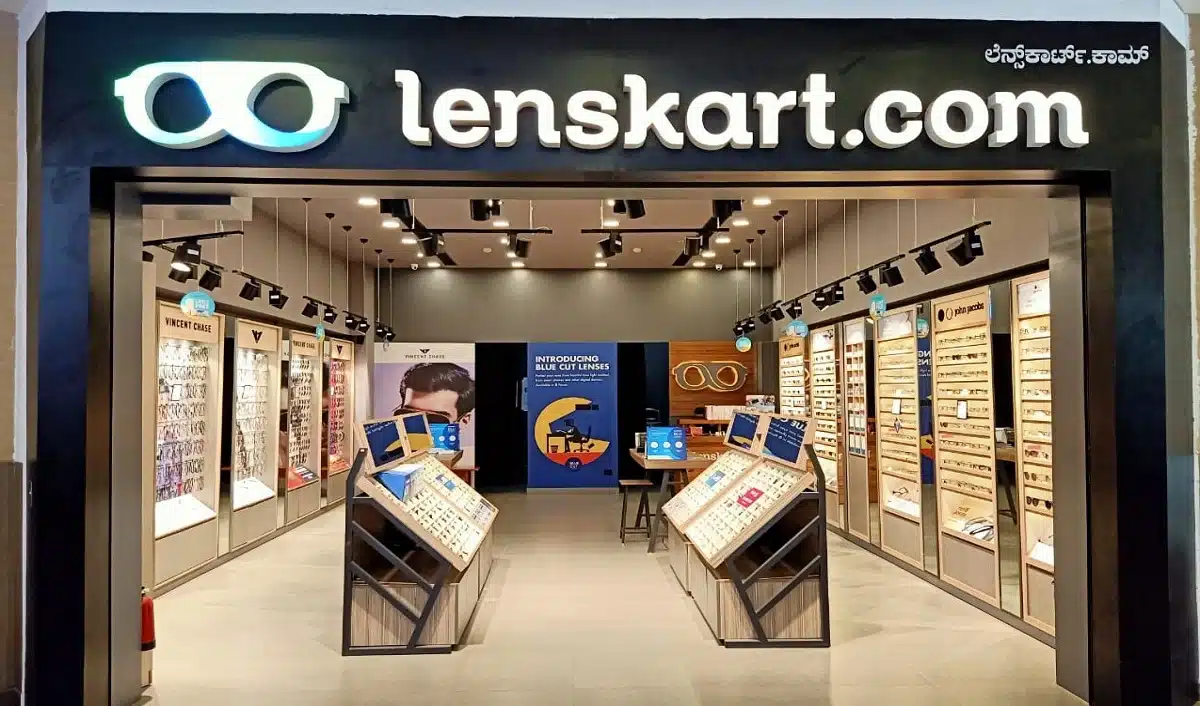 Beyond just offering products, Lenskart has become synonymous with comprehensive eyewear solutions. Whether it's your daily prescription glasses, trendy sunglasses, or specialized lenses, Lenskart is the go-to destination that caters to all your eye care needs.
In the ever-evolving landscape of eyewear, Lenskart has risen to prominence as a brand that not only sells products but also delivers experiences. It's a brand that believes in the power of choice, affordability, and personalized solutions. As we continue our journey through the world of Lenskart, you'll discover more about what makes it the undisputed leader in the eyewear industry.
Conclusion
In the realm of eyewear, Lenskart isn't just a brand; it's a visionary marketing success story. From its inception as an online portal to its expansion into a network of physical stores, Lenskart has redefined how we perceive and purchase eyewear. As we conclude our exploration of Lenskart's marketing strategy and mix, it's clear that their path to success is a symphony of innovation, customer-centricity, and strategic brilliance.
In conclusion, Lenskart isn't just a brand; it's a beacon of marketing brilliance in the eyewear industry. It's a brand that believes in the power of choice, affordability, and personalized solutions. Whether you're in search of vision correction or a fashion statement, Lenskart stands as your trusted partner. As we bid farewell to our exploration of Lenskart's marketing journey, we're left with a clear vision – that Lenskart isn't just about eyewear; it's about enhancing how we see the world. "`