Are you a cinema fan? Of Course, how could someone not be a Bollywood movie fan?
It is becoming increasingly evident that a layman's life is becoming more and more dependent on cinemas. There are a lot of people who cannot afford to spend a lot of money on relaxation and entertainment.
A beautiful aspect of the cinema is that it provides a neutral means of entertainment that can be enjoyed in both an inexpensive and an expensive manner. In addition to all these factors, movie studio companies and production houses also play a decisive role in the creation of such creative works.
A direct correlation exists between the amount of money invested in a movie and the degree of entertainment it provides.
Brief overview of the Indian film industry
India has one of the world's oldest and largest film industries. Indian films were first screened in 1913. Raja Harischandra was the name of the film. Its director, Dadasaheb Phalke, had been honoured by the film industry with a life-time achievement award.
In those days, it was really hard to find someone to portray female roles. The middle class has only recently begun to question the association between acting and the loss of virtue, modesty, and respectability.
Indian cinema began to grow and develop in the early 1930s, thanks to a number of other film-makers working in several Indian languages. Among its early films was Devdas (1935), in which director PC Barua also appeared in the lead role.
This was also the year that V. G. Damle, Shantaram, S. Fatehlal, and two other men founded Prabhat Film Company. It was Damle and Fatehlal's Marathi film Sant Tukaram (1936) that gained international recognition for Indian cinema.
V. Shantaram's social films, more than anything else, paved the way for a whole generation of filmmakers to engage not only with the institutions of marriage, dowry, and widowhood, but also with the inequities created by caste and class.
It was in Achhut Kanya ("Untouchable Girl", 1936), directed by Himanshu Rai of Bombay Talkies, that some of these social issues were most eloquently expressed. An Ashok Kumar-played Brahmin boy and a Devika Rani-played Harijan girl share their travails in the film. Raj Kapoor, Bimal Roy, and Guru Dutt are among the personalities associated with the next noteworthy phase of Hindi cinema. One of the most admired and memorable films in Hindi cinema was created by Raj Kapoor, the son of Prithviraj Kapoor.
Importance of film production companies in the industry
There is no doubt that India is the world's largest producer of films, due in part to the fact that it has one of the oldest film industries in the world. The fact that India has some major production companies as well does not come as a surprise. A production house is responsible for overseeing the production of a film.
In order to create the best possible work of art, they pool their talents in order to combine their resources. Furthermore, they also provide the necessary funds to enable the movie to be developed in a timely manner.
The responsibilities of production houses are generally difficult to describe, therefore, in general. It is in this category that we can include all the works that go into making a film.
There is a wide range of tasks that are handled by production companies, most of which come under the pre-production area. It is possible for them to assist in content development, preparation, post-production, and even hiring the directors and crew for your project. There will be a discussion today on the top 10 production houses in India.
An organisation that produces movies, television shows, and other media is referred to as a production company. Some production companies are large corporations, but most are small businesses. These terms usually refer to the location of the studio where filming takes place. Production companies may also be referred to as studios or film studios.
Production companies are primarily concerned with making money for their owners. Content needs to be sold to the public or advertisers in order to be successful. It is also possible for production companies to operate as cooperatives, in which every member shares in profits and losses equally.
Let us now check out the size of the Indian film industry from 2017-2021, with estimates until 2024.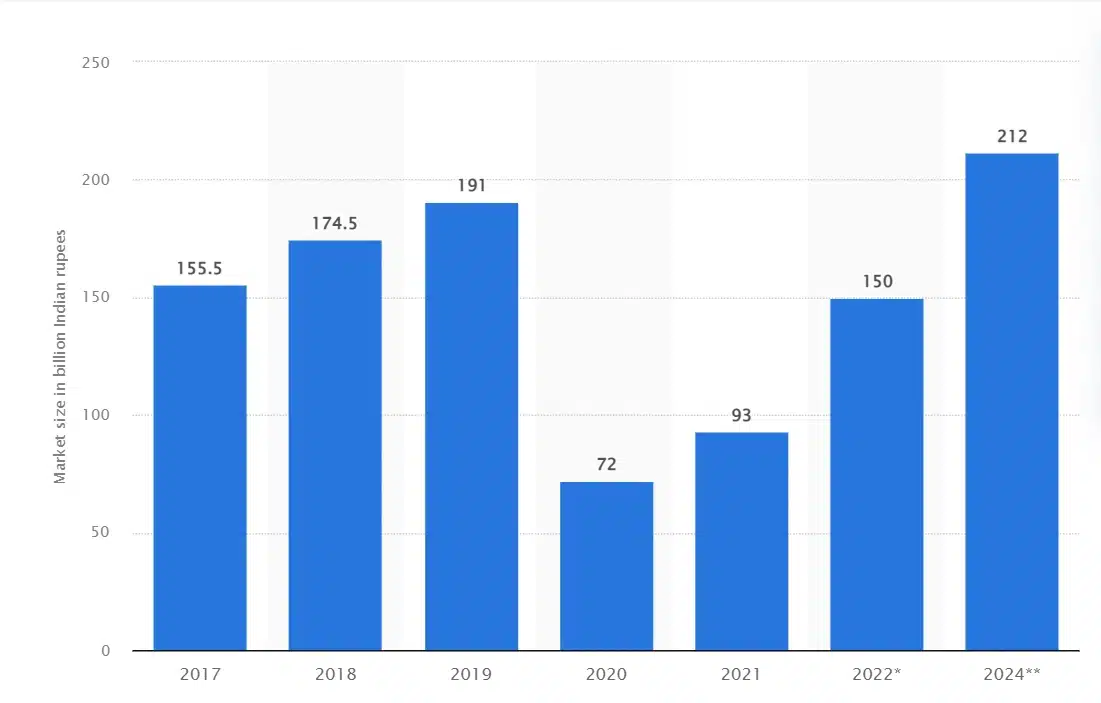 Top Film Production Companies in India
Everybody has dreamed, at some point in their lives, of being able to have someone sign for them on a football field. Bollywood is one of the most adored concepts in the world and we all eagerly consume it as much as we can.
Movies and the behind-the-scenes of them are something we all enjoy, especially when we are young. Let us take a look at the ten most famous film production companies in India.
In India, Dharma productions is one of the most famous film production companies. Karan Johar is the brains behind Dharma productions, which have become household names in India thanks to his leadership. With the success of each film produced by Dharma productions, the company has opened a whole new chapter in its history.
One of the most prominent film production companies in India is Yash Raj Films. The company was founded by Yash Chopra and is headed by his son Aditya Chopra. There are several movies produced by the company that became blockbuster hits, such as Daag, Hum Tum, Bunty Aur Bubbly, etc. As a result, Dilwale Dulhania le Jayenge became the world's highest-grossing movie.
Chennai's Madras Talkies is one of the most popular production and entertainment companies. Many of the highest-grossing movies have been produced by the company, including Iruvar, Alaipayuthe, Kannathil Muthamittal, etc.
AVM productions is one of the oldest film production companies in India. Chennai-based AVM productions have introduced actors and actresses like Shivaji Ganeshan, Rajanikanth, Kamal Hassan, and Vyjayanthimala to India. Some of the films created by the production company include Iduvum Kdanthu pogum, Minnsara kanavu, Alli Arjuna, etc.
There is no doubt that Red Chillies Entertainment is the most popular production company in Bollywood, headed by Shah Rukh Khan and Gauri Khan. It is well known that this company is responsible for the production of some popular movies, such as Asoka, Chalte Chalte, and Main hoon na, among others.
AGS Entertainment
The next popular film production company in India is AGS Entertainment. AGS entertainment was founded by the Kalpathi brothers in 2006 and has produced many hit movies like Thirutu payable, Santhosh Subramaniam, Madrasapattinum, Mattan.
As part of Walt Disney Direct, Fox star studio is owned by Star India. Among its popular movies are Quick Gun Murugan, Khichdi: The Movie, Engeyum epothum, and Jannat. A number of English movies produced by 20th-century studios have also been distributed by the company.
This was all about some of the best and famous film production companies in India. What about understanding the in-depth research on them? Getting to know how much your favourite production houses can perform, understanding their detailed analysis is very important.
Let us understand their grossings with regards to their pictures.
Yash Raj Films
No. of movies – 72
Earnings – 4095.770 crores
Movies – Pathan, Tiger Zinda Hai, War, Sultan, Dhoom 3
Dharma Productions
No. of movies – 49
Earnings – 3932. 240 crores
Movies – Baahubali 2: The Conclusion, Brahmastra – Part 1 (Shiva), Simmba, Good Newwz, Sooryavanshi
Fox Star Studios
No. of movies – 57
Earnings – 3900. 250 crores
Movies – Sanju, Brahmastra – Part 1 (Shiva), Prem Ratan Dhan Payo, Mission Mangal, Housefull 4
What if you knew the whole story behind the big banners?
We are talking about Yash Raj Films & Dharma Productions, the so-called godfathers of modern Indian cinema
YASH RAJ FILMS
In 1970, veteran filmmaker Yash Chopra founded Yash Raj Films (YRF), which is being managed and led by his son Aditya Chopra. Films in Hindi and Punjabi are mainly produced and distributed by the company. Currently, it is one of the largest film studios in the country. Initially an assistant to his elder brother, B R Chopra went on to direct five films for his brother's production company, B.R. Films.
Notable films produced by Yash Raj Films
The list is not a shorter version of a directory. Yash Raj Films notably has been the most successful in the history of Indian cinema. Some of their best films are Pathaan, Tiger Zinda Hai, War, Sultan, Mardaani, Ek Tha Tiger.
Talking about the awards, Yash Raj Films have accumulated a bank of awards as well. Let's have a look at the award for the top two movies!
WAR – This is the best list of awards from every year's award ceremony.
DADASAHEB PHALKE INTERNATIONAL FILM FESTIVAL AWARDS 2020
Best Director – Siddharth Anand
FILMFARE AWARDS
Best Action – Paul Jennings, Sea Young Oh, Parvez Shaikh, Franz Spilhaus
Best VFX – YFX – Sherry Bharda and Vishal Anand
Best Playback Singer (Female) – Shilpa Rao for Ghungroo
ZEE CINE AWARDS
Best Choreography – Bosco-Caesar (for Jai Jai Shiv Shankar Song)
Best Action – Paul Jennings, Sea Young OhParvez Shaikh, Paul Jennings, Oh Sea Young, Franz Spilhaus
Best Visual Effects – YFX (YRF Studios)
TIGER ZINDA HAI – This is the best list of awards from every year's award ceremony.
FILMFARE AWARDS
Best Action – Tom Struthers
POWER BRANDS BOLLYWOOD FILM JOURNALISTS AWARDS
Best Cinematography – Marcin Laskawiec (Associate Winner)
Best Visual Effects – yFX
Best Action – Tom Struthers
IIFA AWARDS
Best Cinematography – Marcin Laskawiec
Best Sound Design – Dileep Subramaniam and Ganesh Gangadharan
As far as the future is concerned, one of the biggest films coming up for Yash Raj Films is Tiger 3. It has been quite some time since Salman Khan and Katrina Kaif were seen together. In light of the rumours circulating, it's time to see how Shah Rukh Khan would be seen as a cameo character.
DHARMA PRODUCTIONS
Raj Khosla's Dostana (1980), starring Amitabh Bachchan, Shatrughan Sinha, and Zeenat Aman, was the company's first production. During the year, the film grossed the highest amount in Bollywood.
Afterwards, the company produced Duniya (1984) and Muqaddar Ka Faisla (1987), neither of which performed well at the box office. Afterward, Agneepath (1990) became a cult film, despite not being a box office success at the time. This film also won a National Film Award for its lead actor Amitabh Bachchan. The company's next two films, Gumrah (1993) and Duplicate (1998), were moderately successful.
Dharma Productions has been one of the prominent production houses in India who has given outstanding films like Shershaah, Sooryavanshi, Student Of The Year 2, Raazi, Simmba. These are some of the biggest hits that have been thundered under the banner of Dharma Productions.
According to News 18, Dharma Productions' recent superhit 'Brahmastra' won the Showsha Reel Awards 2023! Varun Dhawan & Kiara Advani received the performer of the year award for Jug Jugg Jeeyo.
Anil Kapoor won best supporting actor, Maniesh Paul won best actor in the comic role, and Kavita Seth – Rangi Sari won best playback singer(female).
TAKEAWAY
OTT platforms will remain integral to Indian cinema's future. 83 percent of Indians watch video content on their mobile phones, according to a Deloitte study. Cinema experiences remain unique because of this.
Each regional film industry also has its own distinct name in addition to the overarching Bollywood industry. Tollywood refers to both the Bengali and Telugu film industries in West Bengal and Andhra Pradesh and Telangana, respectively. Kerala's Malayalam film industry is called Mollywood, Karnataka's Sandalwood, Assamese language film industry as Jollywood, Tamil film industry as Kollywood, and Odisha's Ollywood.
There are two very famous south Indian movies of recent times that have made it big both domestically and internationally, namely Bahubali and RRR. There is a change in the storylines of Indian cinemas. There is a shift from love stories and family issue-based content to social issue-based stories, and regional movies are showing this trend more prominently.