It can be an exciting and challenging experience to shoot a short film. Short filmmaking requires several things, whether you're a beginner or an experienced filmmaker. Making a successful short film requires proper planning and flow so that the film can be shot smoothly.
Introduction
A short film runs for a short amount of time, and is thus not considered to be a feature film. In general, it runs for 40 minutes or less, including credits. Short films are the most beneficial to filmmakers. Furthermore, short films are important to audiences and societies since they are simple forms of entertainment. There is usually a tight edit and they are entertaining throughout.
Discovering new filmmakers and becoming super fans of them is fun for film enthusiasts. Lack of time, money or access prevents some filmmakers from putting themselves forward, but short films give them a voice.
Pre-production
As an integral step to the filmmaking process, pre-production and planning ensure a high-quality final product and smooth production. Planning and pre-production are essential steps in the filmmaking process. It helps ensure that everyone involved is on the same page, that resources are organized effectively, and that a quality product is delivered.
Pre-production involves following stages:
Concept development

Concept development is the first step in developing a short film idea. The process involves coming up with ideas, researching the topic, and developing a script or treatment for the film.

Scriptwriting

The process of writing a script includes outlining the story, characters, dialogue, and action of the movie.

Storyboarding

In storyboarding, sketches or illustrations are used to represent the script visually. The filmmaker will be able to visualize the film and plan shots and camera angles based on this.

Casting

Selection of actors for the role of the characters in the movie is called casting. The actors' performances can make or break the success of the film.

Hunting for location

Choosing a filming location involves visiting potential locations and deciding which ones are the most suitable for the film. An important factor in determining a film's look and feel is the location.

Budgeting

Allocating resources effectively requires budgeting, which involves determining how much money is needed. The quality of the film can be affected by this stage.

Hiring a crew

The crew hiring process entails choosing the technical team and creative team who will be working on the film. Production designer, sound engineer, and director of photography all fall under this category.

Pre-visualization

The pre-visualization stage consists of creating rough versions of the film, usually through animatics or rough edits. In this way, the filmmaker can see how the film will look before filming begins and make changes as needed.
There is a great deal of preparation and planning involved during the pre-production stage. Filmmakers who follow these stages will be fully prepared for the production stage and will be able to produce high-quality films.
Equipments

Various factors such as genre, story, and style will determine the equipment needed for shooting a short film.
For short filmmaking, the following equipments are needed:
Camera

To capture high-quality footage, you need a high-quality camera. A wide range of options are available, such as DSLRs, mirrorless cameras, and cinema cameras. An iPhone can work as a substitute for a camera if you don't own one.

Lenses

There is no doubt that lenses are as important as cameras themselves. Video footage's look and feel is greatly influenced by the lens used. A standard lens with a focal length of around 50mm is a good choice. It is also possible to use a wide-angle lens with a short focal length, typically around 24mm. This lens allows you to capture a wider field of view, making it ideal for establishing shots and landscapes.

Tripods

Tripods are necessary to stabilize and keep the camera steady. A smooth camera movement and panning shots are also possible with it.

Lighting

In order to create a cinematic look, proper lighting is crucial. Use a basic lighting kit that includes a key light, a fill light, and a backlight.

Sound Equipment

For clear audio, boom microphones and lavalier microphones are essential. The use of a separate audio recorder is also extremely important for you to be able to capture audio independently.

Memory cards

As a result of the cameras' ability to capture video, memory cards are necessary for storing the footage captured by the camera. It is important to make sure        you have enough memory cards to last the duration of the shoot.

Power Supply

Make sure you have enough batteries and chargers in order to power your camera, audio equipment, and lighting equipment during the shoot.
It is important to note that certain shots may need other equipment, including gimbals, stabilizers, dolly tracks, and cranes, depending on the story and genre that the film is being made. Short films require a camera, lenses, tripod, lighting, sound equipment, memory cards, and power supply, along with high-quality lenses.
Filming
Short films have a shorter duration, but they should still be of a high quality. It is imperative to make sure that each shot has a good frame, that the lighting is ideal, and that good relations with the actors are maintained.
The following tips will help you make a quality short film
Getting the framing shots right
You can get effective framing shots by following the rule of thirds, using different angles to convey different emotions, and creating different moods in your shots. To give the short film a more cinematic feel, you have to make camera movements such as panning, tilting, and tracking.
Using different lighting techniques
For any film, lighting is very important. The lighting determines the look and feel of the short film. Lighting techniques such as backlighting, silhouetting, and rim lighting can be used. A somber situation can appear too light or a comical situation can seem too serious when the lighting is poor.
Adjusting camera settings
You can adjust the following camera settings to achieve the desired feel and look of your short film:
ISO
Depending on the lighting conditions and desired look of the footage, choose the ISO setting. It is possible to make the camera more sensitive to light by increasing the ISO, but it can also introduce noise or graininess to the footage.
Frame Rate
Depending on the final output and the desired look of the footage, choose a frame rate. In cinematic footage, for example, 24 frames per second are standard, while in broadcast and web content, 30 frames per second are standard.
White Balance
As a result of white balance, the color temperature of the footage can be adjusted. To make sure that the colors are produced accurately, adjust the white balance based on the lighting conditions.
Picture Profile
In the picture profile settings, you can adjust the contrast, saturation, and color tone of the footage. Make sure that you choose a picture profile that matches the desired look of the footage that you intend to use.
Using quality audio
The goal of short filmmaking is to make as much impact as possible in a limited amount of time. To accomplish this, make sure all dialogue is clear and the background music is appropriate for the scene. The audience may have difficulty following the story and connecting with the characters if the audio quality is poor. The audio creates an immersive experience in which the audience is drawn into the film's world. This is very important in short filmmaking as there is often limited time to establish the setting and context.
Post-production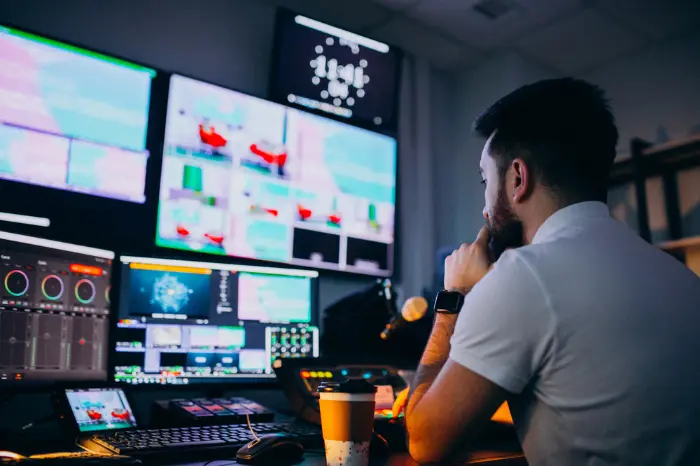 The post-production phase is very important since it determines how your short film will look. It is during this process that the post-production crew pieces together raw footage, adds sound, such as music, voiceovers, sound effects. They also add visual effects.
Post production enhances the overall story of the film in every aspect. The background music, for instance, sets the mood and tone of the piece, which is further enhanced by the color grading. The full potential of a movie or video can be realized with skillful editing.
Here are some of the key steps to take during post-production in short films:
Editing

During post-production, footage that was captured during filming must be edited. The process includes selecting the best takes, removing unnecessary footage, and arranging the shots cohesively.

Sound Design

A film's sound design sets the tone for the entire production during post-production. In order to enhance the viewing experience, sound effects, music, and dialogue are added to the film.

Color Grading

The process of color grading involves changing the color and tone of the footage to create a particular look and feel for a film in order to make a statement. Using this method can help to enhance the mood of the film and create a more polished and professional appearance to the film overall.

Visual Effects

During post-production, there will be an opportunity for any visual effects that are needed for the film, such as green screen compositing or computer generated imagery.

Title Design

Title design is the final step in post-production and involves creating the opening and closing credits for the film and is the last part of the post-production process.

Exporting

After the film has been completed, it must be exported into a format that can be distributed. There are many ways for the film to be distributed, including online platforms, film festivals, or other means of distribution.
There are various editing softwares used during the post-production process, and it is important to use the right editing software at the right time during this process.

The following is a list of some good editing software to consider:
Several editing software options are available for short films, and the best one for your specific needs and preferences will depend on the type of short film you are making.
A few of the more popular options are as follows:
Adobe Premiere Pro

This is a high-end editing software that is widely used in the film and video industries as a professional-grade editing tool. It offers a wide range of features, such as advanced color correction, audio editing, and special effects, among others.

Avid Media Composer

Another professional-grade editing software that is commonly used in the film industry for editing is Adobe Premiere. In addition to multi camera editing and special effects, it also provides other advanced editing tools.

Final Cut Pro X

It has a streamlined interface and powerful editing features, making it a popular editing software. There are advanced tools for color grading, audio mixing, and effects in this program.

DaVinci Resolve
           There are a number of reasons why this software is so popular in the film industry, such as its powerful color grading capabilities. Additionally, it offers a                       variety of advanced audio editing tools and visual effects.
The best editing software for short films will be determined by the level of experience you have, your budget, and the editing needs you have.
Distribution
Upon completion of the post-production process, one makes their film available to the public. There are several ways in which short films can be distributed. Before choosing a distribution strategy for your short film, it is important that you do your research and think about your options. To make the best decision for their film, filmmakers must weigh their priorities and goals in order to make the best choice.
Short films can be distributed in the following ways:
Film Festivals

Short films are often showcased at film festivals to a wide audience. You can obtain valuable exposure, networking opportunities, and recognition in the film industry by submitting your short film to film festivals like Cannes film festival, Sundance film festival, and Berlin film festival.

Online Platforms

You can distribute short films online using platforms such as Vimeo, YouTube, and Amazon Prime Video. A global audience can be reached through these platforms and filmmakers can potentially earn revenue.

Independent Distribution

Alternatively, filmmakers can sell physical or digital copies of their short films independently. In exchange for more effort and resources, this approach may yield higher revenue and better control over distribution.

Television

It is possible to broadcast short films on television through some broadcasters or cable networks, especially during the screening of special programs and film festivals that are held periodically.

Educational and Institutional Use

The rights to screen short films for educational purposes or in-house screenings can be purchased by educational institutions, libraries, and other institutions.
One of the most popular ways to distribute your short film is through film festivals and online platforms. In spite of this, submitting your short film to festivals and promoting it online can be challenging.
You can make the distribution process easier by following these tips:
Tips for submitting your short film to film festivals:
Consider researching the film festival

By reviewing their submission guidelines, previous screenings, and audience demographics, you can make sure the festival is a good fit for your film.

Put together a strong submission package

You should ensure that your film meets the festival's requirements, including its format and sound quality. You should also include a trailer, synopsis, and production stills.

Don't miss the deadline

Some festivals have strict submission deadlines, so be sure to submit your film on time.

Attend the festival

It is important to note that if your film is accepted into the festival, you can gain valuable networking opportunities and help promote your film by attending the festival.
Tips for promoting your short film online
Set up a website or landing page

You can showcase your film's trailer, synopsis, and screening information on a website or landing page.

Use social media

Instagram, Twitter, and Facebook are all great platforms for sharing your film with your followers. Use hashtags to reach a larger audience.

Contact influencers and bloggers

If you are trying to promote your film, you will need to identify and reach out to influencers and bloggers in your niche.

Engage in online film communities and participate in discussions

You can join online film communities and participate in discussions to help promote your film and connect with other filmmakers to help you promote your film.

Submit the film to online platforms

To reach a global audience and potentially generate revenue, submit your film to online platforms such as Vimeo, YouTube, and Amazon Prime Video.
It takes a lot of time and effort to promote and submit a short film, but by following these tips you will be able to increase your chances of success and reach a bigger audience through your efforts.
Conclusion
Short filmmaking is a great way to start your filmmaking journey. Technology has made it easier than ever to produce high-quality films on a budget.
It's a great way to express your creative vision and tell a story that's important to you through short filmmaking. Creating a short film requires knowledge of many aspects of filmmaking, including writing, directing, cinematography, editing, and sound design. In addition to building your portfolio and gaining exposure, short films may lead to future employment opportunities.
Moreover, taking a concept from scratch and watching it come to life can be one of the most fulfilling experiences in life.
Start by brainstorming ideas and writing a script if you're ready to get started. After that, assemble a team and begin organizing equipment, locations, and actors for your shoot. Bringing your story to life and sharing it with the world is possible with a little hard work and dedication.